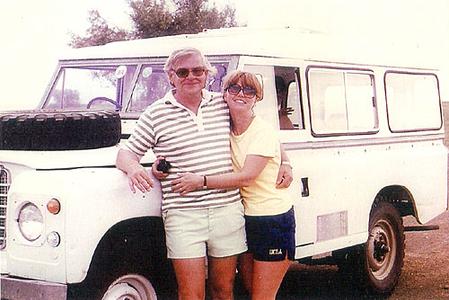 George is my 'why'
My beloved husband's death in my mid-60's not only took my best friend, but after a tragic illness for a year that left him in several institutional settings, I had to 'once again' take my life to the 'next level'.  I could not work 'going forward' as I had in the previous 30+ years.  And I decided I would not work for others at all. That the greatest joy of both service and success would be by taking all the avenues of professional engagement that gave me joy and success.....and turn this into a venture that gave out this same joy and success.  In each of these professional fields of Global  Visits,  fund raising,  healthy living and patient safety.....I can work with your organization in going to the next level that you envision.  Global Visits is returning to once again link global communities who want to make a difference together.   If you are looking for your own financial peace of mind and business venture.....oh my, I would love to talk  about that as well!  Join me!
Betty K. Tonsing, Ph.D., CFRE, CLSS
Thought Leader and Positive Change Agent
Betty Tonsing has an extensive background as an senior executive manager, business owner, global educator and researcher. Serving as a Fulbright Scholar  in Lebanon and Senior Fulbright Specialist in Kyrgyzstan and South Africa, Dr. Tonsing has also contracted with the United Nations, USAID, Catholic Relief Services and the National Democratic Institute for International Affairs. Dr. Tonsing is widely published in the national and international press and  her educational  initiatives have received recognition at international conferences and for faculty excellence. She is an accomplished fund raiser and business entrepreneur, serving as CEO of several non-profits and earning the designation as a Certified Fund Raising Executive/CFRE.  Her husband's sudden illness and subsequent death from a hospital acquired infection following a successful knee replacement propelled her into a field she had never anticipated -- that of fierce advocate for patient safety and wellness, and patient centered, directed care. Dr. Tonsing works in close partnership with a host of national health advocacy initiatives to improve patient safety and support greater patient/advocate engagement. She has trained in the LEAN Six Sigma system, earning her CLSS realizing that many health care systems are using this valuable tool and business strategy to best achieve the Triple Aims of health care.
Appointed to the Indiana State Advisory Board for the Atom Alliance Quality Improvement Organization, serving the Centers of Medicare and Medicaid Systems (CMS)
Appointed to the National Advisory Board for CMS Beneficiary Family Centered National Coordinating Committee Quality Improvement Program (BFCC-NCC QIO)
Executive Committee of USA Patient Network
Invited to be a research mentor and faculty advisor for the Patient Safety Leadership Program for the University of Illinois in Chicago School of Medicine
Presentations as keynote speaker speaker and panelist for international and national conferences, meetings, seminars and workshops focused on international development, civic action, global education and women's leadership  and patient safety.  Speaking engagements have also included forums in Kyrgyzstan, Lebanon, South Africa, Sierra Leone and Mexico
More recent presentations are focused on the national crisis related to patient safety and advocacy with a particular concern for the number of deaths as a result of hospital infections and medical error – the 3rd leading cause of death in the US – and what control the consumer has with their own advocacy
Outstanding Woman Alumnae, Purdue University
International Institute of Education Best Practices recognition for innovative approach to global linkages for university students (Global Visits)
Faculty Colloquium for Excellence in Teaching Recognition
Rotary International Paul Harris Fellow: Rotary District Chair, Peace Fellowships
Alumnae Citation (inaugural recipient), Indiana-Purdue Fort Wayne (Indiana)
YWCA Woman of Achievement
Next Steps.....
Look at each of the tabs. Can I make a difference  in what you are doing?